Dolor emocional: Entendiendo la angustia psicológica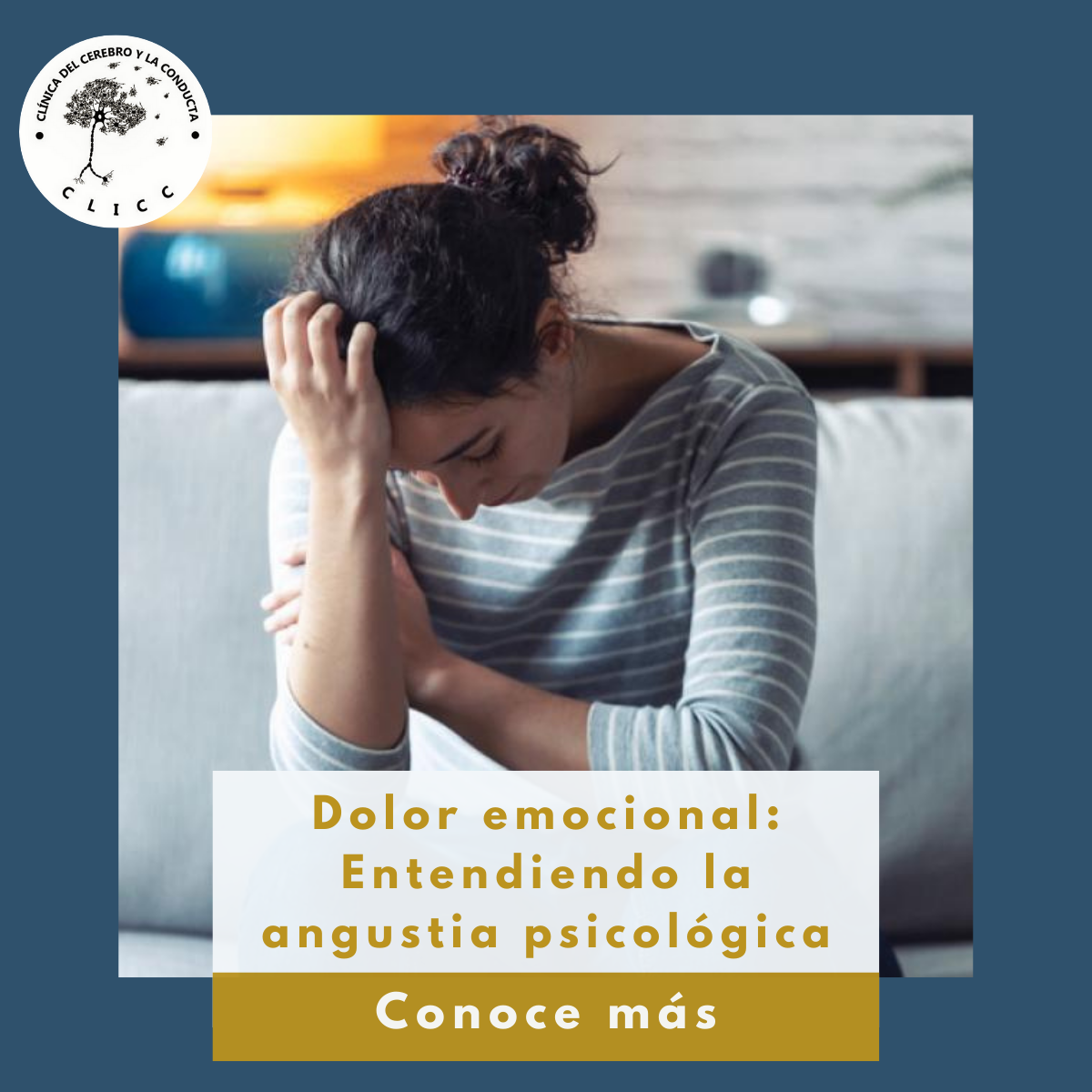 La crisis actual derivada por la pandemia de COVID-19 causada por el coronavirus 2 (SARS-CoV-2) ha requerido tomar medidas de restricción de diversas actividades sociales, laborales, educativas y económicas para disminuir la transmisión del virus, lo que ha generado un gran cambio en la vida diaria de las personas y ha afectado muchos aspectos de la vida y los medios de manutención de varias familias, por lo que, ha generado altos niveles de incertidumbre y angustia psicológica, así como respuestas de pánico, depresión y ansiedad.
Muchos estudios se han enfocado en investigar las consecuencias de la crisis actual sobre la salud mental, en varios de estos estudios se ha identificado la presencia de
angustia psicológica
como uno de los problemas mentales más comunes a partir de la pandemia.
Algunos estudios señalan que factores estresantes como, el desempleo y la falta de redes de apoyo, son factores de riesgo que podrían generar la angustia psicológica, además, se ha señalado que un nivel educativo y económico bajo podrían ser factores que favorezcan esta condición. Tomando en cuenta estos datos, es entendible que las personas se encuentren en un caos emocional, ya que, a partir de la pandemia muchas personas se quedaron sin empleo, además muchas otras se distanciaron de amigos y familiares que conformaban su sistema de apoyo emocional, así como muchas otras dejaron de realizar las actividades que más disfrutaban por las restricciones de movilidad y la crisis económica, todo esto genera niveles altos de incertidumbre y desesperación así como emociones de ansiedad y depresión, por lo que los lleva padecer un estado de angustia psicológica.
¿Qué es?
Al hablar de
Angustia psicológica
nos referimos, de acuerdo con la Asociación Americana de Psicología (APA), a un
conjunto de síntomas físicos y mentales dolorosos que se asocian con cambios en el estado de ánimo normal
,
e implica un deterioro funcional y podría dar pauta al inicio de otros trastornos
como el Trastorno depresivo mayor, Trastorno de ansiedad, Trastorno de somatización,  entre otros.  La angustia psicológica se diferencia de otros trastornos, porque el sentimiento de angustia se mantiene constante mientras dure el estado emocional, el cual suele ser  pasajero o de corta duración. 
La aparición de la angustia psicológica  se asocia con factores estresantes, como los que se están viviendo hoy día, también se ha relacionado con la presencia de algunos trastornos mentales previos o en presencia. 
Algunos de los signos emocionales, conductuales y físicos que se han identificado en la angustia psicológica son:
Emocionales:
Angustia 

Depresión

Ansiedad

Pesimismo al futuro

Baja autoestima
Conductuales:
Comportamientos obsesivos-compulsivos

Aislamiento social

Ira

Problemas de memoria
Físicos:
Alteración del sueño

Fluctuaciones del peso y cambios en la alimentación

Dolores físicos como dolor de cabeza, estreñimientos, diarrea, dolor crónico y dolor estomacal

Fatiga crónica o cansancio excesivo
Como se mencionó anteriormente, podría ser precursora de otros trastornos mayores,  por lo que un tratamiento a tiempo reducirá los síntomas y los posibles riesgos.
Además, el hecho de que se hayan identificado un gran número de síntomas no implica que todas las personas tendrán cada uno de ellos, en cada persona se expresa diferente. Sin embargo, mantener un estado de constante angustia psicológica podría causar cambios conductuales como: 
Mayor consumo de sustancias

Deserción escolar

Comportamientos sedentarios o violentos

Aislamiento social
La angustia psicológica genera un desgaste físico y mental, así como repercusiones conductuales que afectan en la vida diaria, por lo que es necesario actuar de manera temprana y oportuna,  para disminuir las afectaciones y prevenir y combatir las conductas problema que se puedan desencadenar, así como, prevenir el desarrollo de un trastorno mayor, con ayuda de un experto en la salud mental.
Es importante reconocer que durante un estado de emergencia, o en este caso ante una pandemia,
contar con las herramientas de afrontamiento y una salud mental adecuada son una clave fundamental para lograr sobrellevar esta situación de crisis
, por lo que la atención de salud mental debe de brindarse de manera oportuna e inmediata.
Referencias:
Arvidsdotter, T., Marklund, B., Kylén, S., Taft, C. & Ekman, I. (2015). Understanding persons with psychological distress in primary health care. Scandinavian Journal of Caring Sciences, 2016(30), 687-694, doi: 10.1111/scs.12289
De la Torre, J., Fernández, T., Molina, A., Amezcua, C., Mateos, R., Cancela, J., Delgado, M., Ortíz, R., Alguacil, J., Redondo, S., Gómez, I., Morales, M., Blázquez, G., Jiménez, E., Félix, L., Ayán, C., Vilorio, L., Olmedo, R.& Martín, V. (2019).  Psychological Distress, Family Support and Employment Status In First-Year University Students in Spain. International Journal of Environmental Research and Public Health, 16 (1209), 2-11, doi: 10.3390/ijerph16071209
Chen, Y., Jones, C.& Dunsen, N. (2021). Coronavirus disease 2019 (COVID-19) and psychological distress in China: Does neighborhood matter?. Science of The Total Environment, 759, 1-9,
https://doi.org/10.1016/j.scitotenv.2020.144203
.
Pengpid, S. & Peltzer, K. (2020) Prevalence and associated factors of psychological distress among a national sample of in-school adolescents in Morocco. BMC Psychiatry, 20 (475), 1-11.
https://doi.org/10.1186/s12888-020-02888-3
Rillera, R., Ismail, Z., Nu, M., Bahari, R., Ismail, R., Quilatan, E., Singh, A., Lotfizadeh, M., Respati, T., Nia, S., Sartika, D., Mong, P., Lekamwasam, S., Bikram, B., Kucuk, B., Soe, S., Songwathana, K., Abdullah, R., Ahmad, A., Wati, A., Taheri, S., Mukti, R., Mehnaz, S.& Tin, T. (2021). Psychological distress during pandemic Covid-19 among adult general population: Result across 13 countries. Clinical Epidemiology and Global Health, 10, 1-6,
https://doi.org/10.1016/j.cegh.2021.100708